The glued facade is a system that makes it possible to obtain an attractive result that requires less maintenance than other comparable systems.
This type of covering uses adhesive to attach the ceramic slabs directly onto the plaster on the exterior of the building.
Concealed T.Fix
Building exteriors can also be covered by gluing coverings directly on the external plaster, however if the size of the installation is longer than 30 cm the use of mechanical fixing devices is necessary for safety reasons.
The concealed safety hook T.Fix guarantees adherence to the wall thanks to an embedded mechanical hook which is inserted in the porcelain stoneware slabs before they are fitted. First of all the adhesive is applied to the slab which is then fixed to the wall; the hook is then secured to the underlying wall with dowels.
The T.Fix system by Mirage® guarantees a breaking resistance of over 250 kg, maximising safety in case of detachment of the adhesive between the wall and the ceramic slabs; this system also offers easy and fast installation.
Suitable for sizes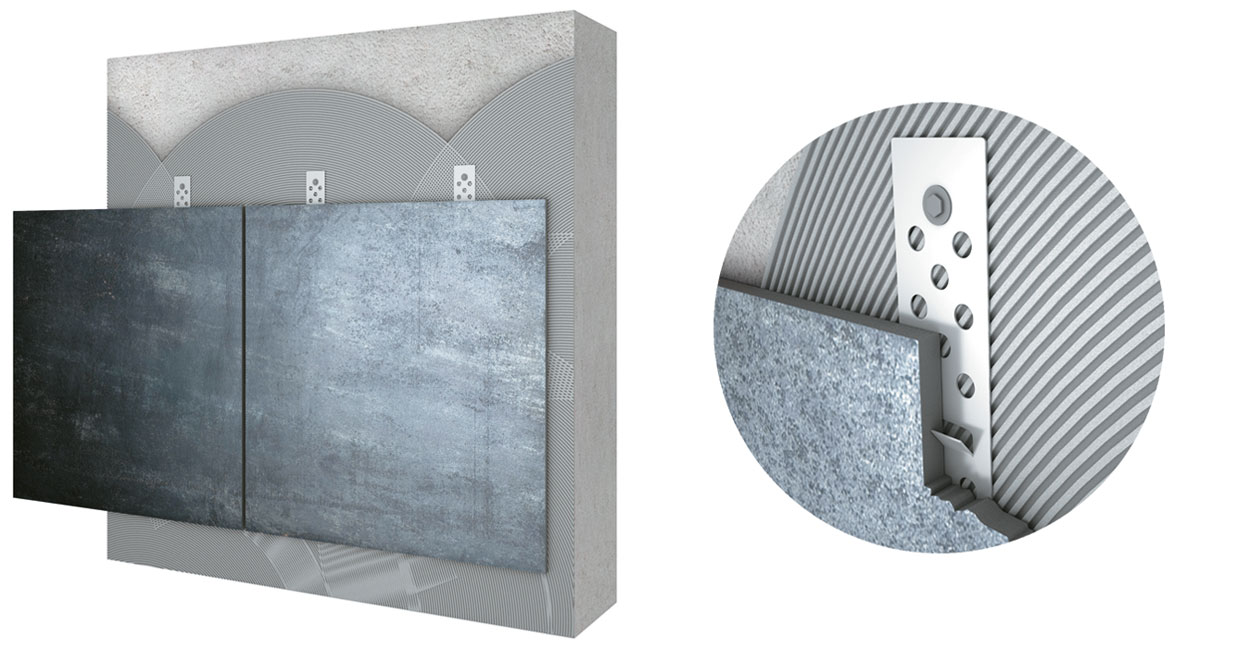 The 0.5 mm stainless steel hook is supplied already fitted on the back; the slab is ready to be glued to the wall and the metal plate must be fixed using a dowel. For slabs with side measuring up to 600 mm we recommend the use of 1 hook, while for sizes between 900 and 2400 mm we recommend 2 hooks at a distance of at least 400 mm.
The technical staff of Mirage's Engineering division is available to study solutions to meet all requirements.
Installation
1. If upon request the hook is supplied not assembled, it must be assembled before applying the adhesive to the back of the slab.
2. The adhesive must also be spread onto the wall (double spreading).
3. The slab can then be fixed to the wall in the required position.
4. Then make a hole in the wall through one of the openings in the metal plate.
5. Secure the slab to the wall with a dowel for extra hold compared to that offered only by the chemical adhesive.
6. Now fix the second slab positioning it over the metal plate so the fixing system becomes invisible.
7. Repeat until the surface has been totally covered; it is important to carefully dose the amount of adhesive used in order to achieve an even surface.
8. Complete wall covering.
Also read…
A ventilated façade is a means of covering a building; the porcelain stoneware surface is anchored to the wall of the building thanks to an aluminium structure and mechanical anchorage devices.
Read more
Technical indoor flooring meets the challenging demands of modern work environments, requiring adaptability without sacrificing the technical features and superior appearance of porcelain stoneware.
Read more