CERSAIE 2017. So many guests at Mirage booth
Tuesday 10 October 2017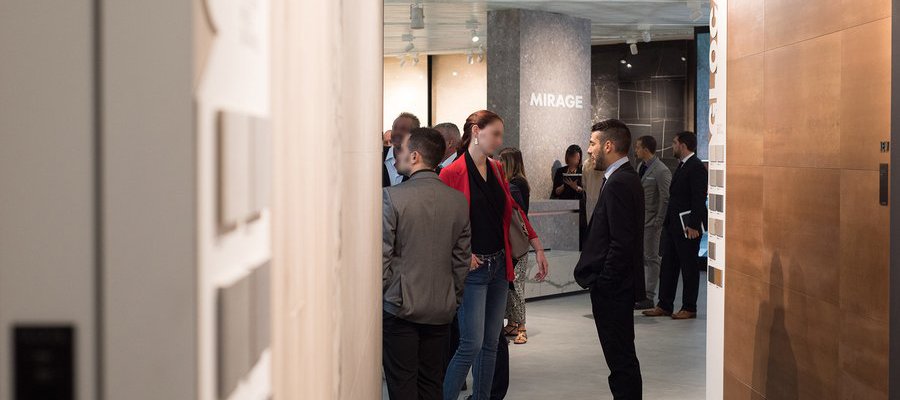 Written by
Marketing Mirage
The thirty-fifth edition of Cersaie, the International Exhibition of Ceramic Tiles and Bathroom Furnishings, ended on 29 September 2017 at the Bologna Fiere.
At the most anticipated fair in the industry, Mirage presented many important innovations that drew great enthusiasm and appreciation from visitors, designers and architects during the five days of the fair.
Mirage is strongly committed to design which is reflected in the development of products that go far beyond the concept of a collection to become versatile decor and furnishing solutions for contemporary architecture.
In the first place, JEWELS.
This new Marble-effect porcelain stoneware by Mirage enhances any space, giving it an allure that only a highly prized material can evoke.
Mirage enriches the collection even further with 7 new marble effects featuring a varied look that reaches aesthetic and quality excellence that can enhance any luxury interior design project.
The range is completed by the large-size 160x160 and 160x320 slabs with thickness of 6 mm for new application and design possibilities.
LARGE-SIZE SLABS.
Mirage reinforces its role as a valuable design partner within the evolving contemporary architecture scene, by expanding its range of large-size slabs in the Mirage collections with the introduction of the new 160x160 and 160x320 cm sizes.
These solutions offer new creative and functional opportunities, guaranteed by numerous sizes and application options.
For every type of product and application. Mirage offers the most effective and uncompromising solutions, a synthesis of technology and creativity.
GLOCAL, the new smooth concrete-effect collection in porcelain stoneware.
The new Glocal collection responds to the needs of those who want a basic yet sophisticated look for their kitchen, bathroom and living area. It is the ideal base on which to build experimental projects that appeal to architects and designers.
9 neutral shades that perfectly match with each other to coexist texturally with other collections in the Mirage range, in order to further enhance the design and decorating solutions.
The Glocal range expands to include large-size slabs, available in sizes of 160x160 and 160x320 with thickness of 6 mm, and 120x240 and 120x120 sizes with thickness of 9 mm.
Thank you to all those who visited the Mirage stand at Cersaie 2017!